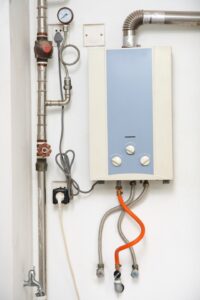 Tankless water heaters, or "on-demand" water heaters have been around for a while now. Most homeowners associate them with convenience, power, and the efficiency of having access to hot water without the need for a tank. This is good news for a lot of our potential customers, because due to their popularity, on-demand water heaters are becoming increasingly more affordable. It's more common to have a tankless system set up in your home, rather than having to default to a storage-tank water heater.
The truth is that these water heaters are not for everyone. Some homes will actually function a lot better with a storage-tank water heater. But in order to understand the difference, we'd like to cover the basic benefits of going tankless, and why it might be a great option for your home.
And, if you like what you read, then be sure to schedule water heater service in Monument, CO with a team you trust!