Thoughtful Last-minute Christmas Gifts from SoCo Heating and Cooling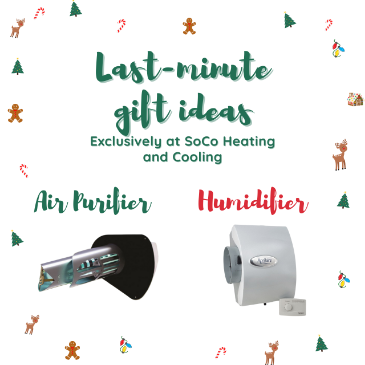 Are you struggling to come up with the perfect present? Don't know what to get the one who has it all? Think outside of the box this year!
SoCo Heating and Cooling is selling wrapped Whole House Air Purifiers or Humidifiers.  We will wrap and hand deliver the Humidifier or Air Purifier. You'll have it just in time to put under the Christmas Tree, all you have to do is sit back and enjoy the holiday season. Let us help you take one thing off your very busy plate!
Please call us at 719-497-2777 to coordinate your Humidifier or Air Purifier's arrival and installation.  The idea behind this is so that you will have a cool gift for your loved one to unwrap and we will install the item when it's good for them! Installation needs to be scheduled within 30 days after the holiday.
Click here to coordinate your next holiday gift now with SoCo Heating and Cooling! So Cool. So Cozy.