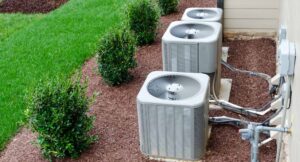 When it comes to keeping your home cool throughout the summer, you have a pretty big challenge to face. The heat in Colorado Springs and the surrounding areas can be formidable. But thankfully you aren't alone when you're facing this issue.
SoCo Heating and Cooling provides expert air conditioner services in Colorado Springs, CO and beyond. We work with a majority of AC systems and offer comprehensive services to ensure that you can enjoy a truly comfortable home. Read on to discover how our team is your one-stop shop for all of your home comfort needs.
The Air Conditioner Services You Can Come To Us For
Looking for help with your air conditioner? Whatever you need, our team of trained, professional HVAC technicians is here to get the job done right. Here are the AC services that you can turn to our team for.
Air Conditioner Installation
The installation of your air conditioner is extremely important. This sets the tone for the rest of your system's working lifespan. In fact, the installation of your AC can determine the length of its lifespn! Proper installation from a professional ensure optimal operation and a great number of usable years from your AC. Our team is able to expertly install any of the following systems:
Central Air Conditioners
Daikin HVAC Systems
Ductless Mini Split Systems
Heat Pumps
Geothermal Systems
Variable Refrigerant Flow ACs
We don't stop there though. We can also help set you up with a zone control system or an extremely efficient wif-i thermostat.
Air Conditioner Repairs and Maintenance
The installation is the starting line for your air conditioner. However, you also need to have an expert that can provide the assitance your system needs to run the seasonal race! That is what air conditioner maintenance and AC repairs are for.
Maintenance and can thought of as a preventative service. This is because we recommend making an appointment for a tune-up each year to keep additional issues at bay. They also improve the effectiveness and efficiency of your system throughout its lifespan! That is one of the many reasons that we also offer an incredible maintenance plan, The Cozy Club, to make this service even more beneficial.
We also proudly offer air conditioner repairs for those times when your system does indeed run into trouble that inhibits its operation. From refrigerant leaks to bad motor bearings, you can count on our team to get your system back into working order.
Air Conditioner Replacement
Last but certainly not least, when your system reaches the end of its lifespan and is no longer able to provide the comfort that you need. We understand the urgency that comes with an air conditioner repacement. We can provide this service in a timely manner and will help you with every step of the process.
Whatever you home comfort needs, you can count on us to provide! We've proudbly served residents just like you since 2017.
So Cool. So Cozy. Contact SoCo Heating and Cooling today for all of your HVAC needs.