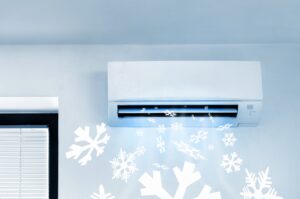 This is a question that customers ask us a lot, and it's one that requires a bit of an explanation. Heat pumps sometimes feel like the only appliances in the whole world that require routine maintenance twice a year, while all other types of systems seem like they can be maintained yearly. What gives?
Well, your home comfort is what gives! You see, heat pumps work tirelessly throughout the entire year to keep an entire home comfortable. Spring, summer, fall, and even through the winter, a heat pump is still responsible for transferring heat from one place to another.
Down below, we're going to talk a bit about how your heat pump can do so much for your home, while also mentioning some of the benefits of heat pump maintenance in Colorado Springs. Just make sure you give our team a call and schedule an appointment early!
Heat Pumps Are Year-Round Systems
When you compare heat pumps to their counterparts, like central air conditioners or furnace heating systems, the difference is quite clear. While a central air conditioner only runs in the summertime, and a furnace only runs in the fall or winter, a heat pump runs every single season. This amounts to an incredible amount of strain on the system to the point where it can break down if it's not regularly maintained.
Maintaining your heat pump twice a year ensures that it can work for the entire year, which is going to be beneficial to you. Heat pumps are powerful and efficient comfort systems, and you'll save money by using it more, which means maintenance can go a long way!
Heat Pumps Rely on Efficiency
In order for a heat pump to be worth the cost of investment, it needs to run efficiently. That's one of the most important reasons to invest in a heat pump system. They run on electricity and they often cost less to run on a monthly basis than other conventional heating or cooling systems, as long as they stay in good shape.
With maintenance twice a year, you can rest assured that the system will run as efficiently as possible. This means it will use minimal amounts of electricity to do its job throughout its 10-15 year lifespan. All of that money adds up, and you could see yourself save a good chunk of cash by the end of that decade!
Keep the Technology in Good Condition
Forced-air heating and cooling systems, like heat pumps, have a lot of moving parts. These parts interact with each other every time the system turns on or off. Just like the computer you might use for work, or your car, components need to be lubricated, adjusted, and maintained on a yearly basis.
With heat pumps, that yearly basis just doesn't cut it. These components can get stresed out only 6 months after your last maintenance appointment due to how heavily we rely on these systems. Maintenance twice a year is the only surefire way to eliminate most repair needs and keep the system in good condition.
Contact SoCo Heating and Cooling for heat pump maintenance this fall. So Cool. So Cozy!