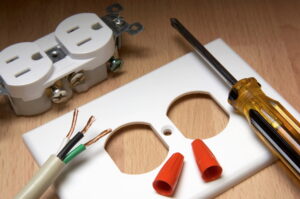 One of the most important aspects of being a property owner or manager, is trying to figure out what projects you can do yourself and what almost always require a professional. Changing out a lightbulb, for instance, is usually going to be easy enough for a homeowner. As long as you know the correct type of bulb to use, then you're really not going to run into any major problems.
However, when trying to replace electrical wires, or even when installing new appliances, it can be easy to hit a wall where a professional is required. That's where we come in!
This blog post is dedicated to those people taking on home projects and investing in their property who can't seem to find the line between DIY and professional work. Let's figure out why you might need electricians in Colorado Springs, CO, and we'll even make a shocking announcement at the end!
3 Good Reasons to Call a Pro
In order for us to talk about the need for a professional electrician, we need to cover some benefits of that kind of service. Taking on projects yourself can lead to a whole host of unknown results that can be a hindrance to your home and your safety. Let's talk about three of the most important reasons to call for a professional electrician for your next project.
Safety requirements. Handling certain electrical equipment can require safety procedures. Trained professionals know about these kinds of safety protocols and the right safety gear to wear because, well, they do it for a living! You can always rest assured that nobody will get hurt when you hire a pro. (They're even insured, so in the event that someone does get hurt, you're not held liable for it)
Cost savings and large, intricate projects. Buying the right sized equipment and components for an electrical system can be a trial and error process if you don't know what you're doing. This can amount to wasted money and equipment you don't need. When you hire a pro, you can feel comfortable knowing they have access to parts and equipment that is the right fit for your electrical project. This will ultimately save money for both parties.
Efficiency and energy waste. Energy costs are on the rise, which means it's more important than ever that your home doesn't waste electricity. A DIY project might end up working, but you also might be wasting a substantial amount of energy (and money) from an inefficient set up. A professional electrician makes sure that everything runs smoothly and efficiently, using the least amount of energy possible.
And Here's Our Shocking Announcement
Did you know that you've already got a professional electrician waiting and ready to take on your next project? Yep, that's us! We have a whole team of certified, licensed, and insured electricians ready to meet new customers and take on new challenges. Put the phone book away, and close out the search engine–it's time to let us take care of it!
Contact SoCo Heating and Cooling today to schedule your next electrical appointment. So Cool. So Cozy.