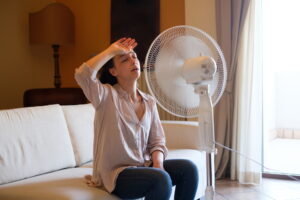 The summer might not technically be here yet, but it's on its way! Temperatures are only likely to get warmer until we find ourselves in the middle of a heatwave. This means that everyone is looking for better ways to run their air conditioners and get more from an already overburdened system.
We have some time to prepare before these hot temperatures reach us, so this blog post is going to be a checklist of some things you can do to help stay cool. Remember, cooling isn't just about AC, you'll need to remain hydrated, think about areas where sunlight infiltrates your house, and more.
Our goal is to inform our customers so they know that they can trust us for anything related to AC services in Castle Rock, CO, while we trust them to stay safe, hydrated, and comfortable.
Tip #1: Stay Hydrated!
Our bodies require plenty of fresh water to stay calm and comfortable. Not only does drinking water on a hot day keep you safe from things like heat exhaustion, but it also helps alleviate stress and lower your body's temperature.
This might sound like a simple tip, but we can't stress enough how important it is that you and your family stay hydrated. Try mixing some cut up fruit, lemon, or cucumbers into a gallon of water to help it taste crisp or sweet!
Tip #2: Run Your Ceiling Fan
Ceiling fans are excellent tools to run, even if you have an air conditioner! They work by circulating air in a way that makes the temperature of the room feel colder than it is.
This is important because a slight breeze helps to evaporate the sweat off of our bodies, which lowers our internal temperatures. So, you might not have to turn the thermostat down lower if you feel cooler thanks to your ceiling fan.
Tip #3: Wear Light Clothing
It's counterintuitive to wear a sweatshirt and jeans on one of the hottest days of the year. We understand that you might like those pants or that sweatshirt more than other sets of clothes, but you'll be uncomfortable no matter how hard your AC works. Your AC can only cool your home so much before it starts running inefficiently. Aid this process by wearing shorts and light clothing that allows for sweat to evaporate as it cools your body off.
Tip #4: Use Curtains and Shades
Sunlight can look beautiful for your home's aesthetics, but it also raises the temperature. On some of the hottest days of the year, try using your curtains or shades to block out sunlight. This will reduce the temperature a little bit and give your AC a little break. This is a good idea, especially in rooms that nobody is in!
Tip #5: Get Your AC Repaired!
If your air conditioner isn't running the way it's supposed to, then the only tip we can really give you is to schedule a repair appointment. This includes a system that's making loud or uncomfortable noises, a unit that's running inefficiently and soaking up too much electricity, or even an AC that's struggling to cool your home at all. All of these sound like problems that a professional might be able to alleviate.
If your AC is struggling, schedule an appointment with SoCo Heating and Cooling for quality work. So Cool. So Cozy.